All You Need to Know About Auto Insurance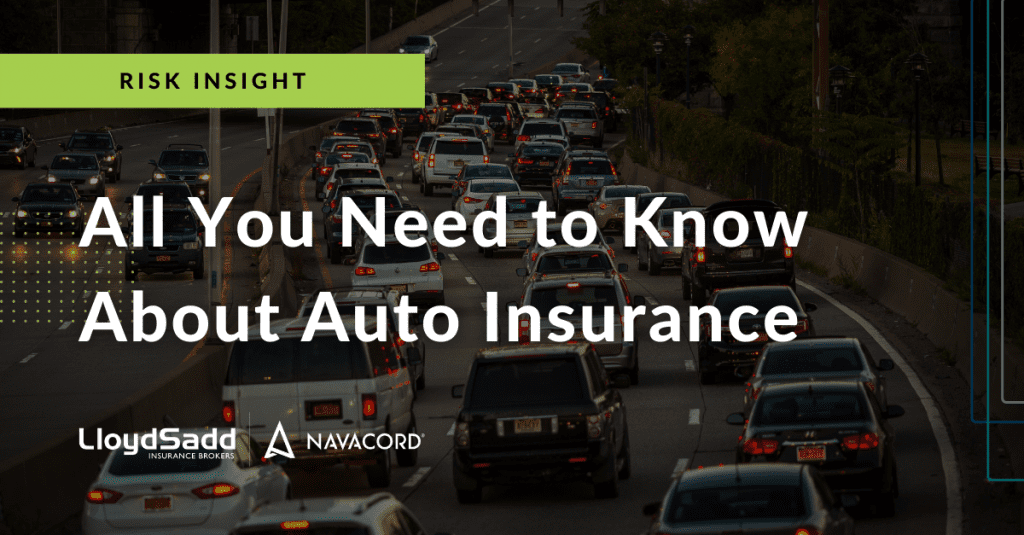 Automobile Insurance serves as a safeguard against financial hardship in the event of an auto accident and assists in paying for damages if your company vehicle is damaged, starts on fire or is stolen.
Provincial Similarities and Differences
Basic auto insurance is mandatory in every Canadian province and territory.  However, each province's requirements for mandatory coverage may vary.
In British Columbia, Saskatchewan and Manitoba, basic/required auto insurance is sold by government-run insurance companies. Private and government insurers then compete to sell additional coverage options.
In Quebec, the government system covers injury and death claims and private insurers offer additional coverage for property damage, auto damage, and bodily injury liability claims that occur outside of Quebec's borders.
Basic Types of Coverage
The following is a list of basic coverages typically found in auto insurance policies. Some may be required in specific provinces, while optional in others. Make sure you know your specific provinces' requirements for auto insurance.
Liability Coverage

Liability Insurance covers the costs of damage that you may do to others, including property damage and bodily harm. It also covers legal fees, if you are brought to court as a result of the accident.
Property Damage Liability coverage compensates to replace or repair property that you destroy (other vehicles, fences, buildings, etc.).
Bodily Injury coverage compensates for pain and suffering damages up to your policy limits.

Collision Coverage

Pays to repair your vehicle after an accident.
Coverage applies after deductible is met.

Comprehensive Coverage

Pays for damages to your car that were not caused by an accident, such as fire, theft, vandalism, natural disasters, hitting an animal, etc.
Glass is often also covered under this portion of a policy.
Coverage applies after deductible is met.

Accident Benefits (not applicable in Quebec)

Accident Benefits coverage compensates for medical expenses for the driver and his/her passengers as a result of an accident. Additionally, rehabilitation, funeral expenses, and income loss due to death and disability are covered up to your policy limits.
Additional Coverage
In addition to the main types of coverage, there are also several add-ons available to increase your automobile coverage and ensure that your business vehicles are properly covered:
Loss of Use

Loss of Use coverage (also called Rental Reimbursement or Car Rental) covers the cost of alternative transportation while your vehicle is being repaired.

Waiver of Depreciation

Waiver of Depreciation coverage applies to new cars, typically less than 3 years old. It ensures that no depreciation will be applied to the car's value if it is damaged in an accident.

Uninsured Motor Vehicle Coverage

Uninsured Motor Vehicle Coverage pays for damages if you are hit by a driver who does not have liability insurance or if you are involved in a hit and run accident.

Underinsured Motor Vehicle Coverage

Underinsured Motor Vehicle Coverage pays for damages when you are hit by a driver who has low limits of liability coverage.

Emergency Road Service

Emergency Road Service coverage reimburses you for the cost of towing, a jump, the repair of a flat tire, a locksmith or any other assistance you need when stuck on the road.
Lloyd Sadd Insurance Brokers Ltd understands that your company vehicles need protecting and we are here to help you determine the appropriate coverages and limits for your company. Please contact us today to learn more about our Automobile Insurance solutions.
To download the insight, click here: Risk Insight_All you Need to know about Auto Insurance