Minimizing Amputation Hazards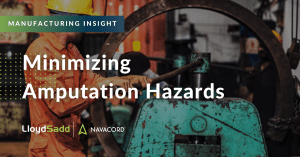 Amputations are some of the most serious and debilitating workplace injuries and can be caused by a variety of activities and equipment. With this in mind, it's vital for employees like you to understand common amputation hazards and take steps to prevent them.
Common Amputation Hazards
While amputation hazards can stem from a range of tasks, they are most commonly associated with using certain machine components (e.g., points of operation, power-transmission apparatuses and other moving parts) and deploying specific mechanical motions (e.g., rotating, reciprocating, cutting, punching, shearing and bending). These hazards can also frequently arise during material-handling activities and when using equipment such as forklifts, trash compactors and hand tools.
Preventing Amputations
To reduce the risk of experiencing amputations on the job, consider the following best practices:
Wear the required personal protective equipment (PPE) for the task at hand. Ensure the proper use, maintenance and storage of this PPE.
Make sure machinery and other equipment have effective safety guards in place. Don't remove or tamper with these guards.
Inspect machinery and other equipment before each use. Never use damaged equipment.
For more information on amputation hazards, consult your supervisor.
To download the insight, click here:[Manufacturing Insight]_Minimizing Amputation Hazards_Lloyd Sadd