NAVIGATE Vol. 3 – Navacord Benefits Newsletter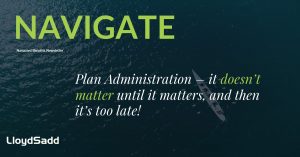 The most recent release of NAVIGATE is now available! In Volume 3, a team of skilled advisors from Navacord discuss various subjects, including techniques to control expenses in expat benefit plans, the significance of Employment Practices Liability Insurance and careful Plan Administration, the increasing prominence and need for Diversity, Equity, and Inclusion (DEI) in the workplace, and the influence of education on financial and retirement planning.
Read the latest edition of NAVIGATE now and learn more about relevant topics in the market.
To download the insight, click here: NAVIGATE Vol. 3_LloydSadd