Insurance Professional Program at NorQuest College Aims to Transform Alberta's Industry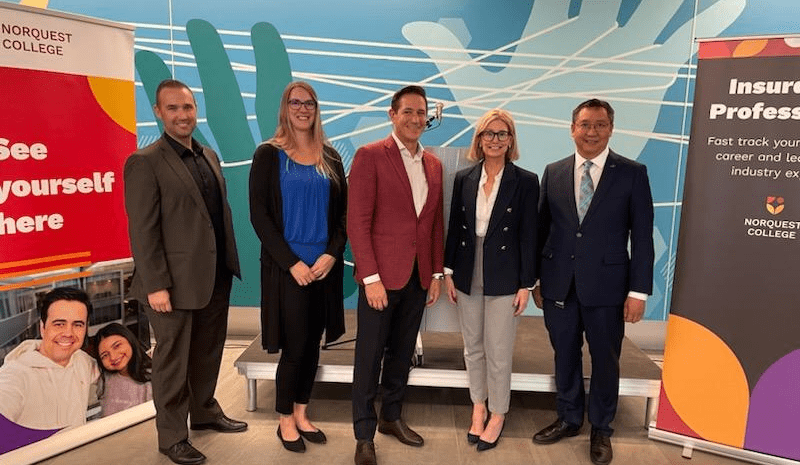 By: Nicole Deveau, HR Advisor, Talent Acquisition
On Tuesday, October 10, 2023, NorQuest College made waves in Alberta's insurance industry with a groundbreaking announcement.
The institution unveiled its ambitious project, the Insurance Professional program, a collaboration with local insurance firms. This program, designed to arm students with the essential knowledge, business acumen, and critical skills required to thrive in the sector, promises to be a game-changer.
An address by Carolyn Campbell, President and CEO of NorQuest College, underscored the significance of building strong partnerships with the insurance industry. She spoke about the pivotal role these partnerships play in preparing students for the dynamic real-world demands of the sector.
Campbell emphasized that the insurance industry is dynamic and constantly evolving. It requires professionals who are not only well-versed in insurance principles but also possess a broad skill set that includes communication, analytical, and customer service skills.
But the event wasn't limited to educational leaders and college officials. MLA Tany Yao from Fort McMurray-Wood Buffalo made the journey to Edmonton to join the celebration. Tany Yao emphasized the importance of accessibility in the pursuit of education and skills development, particularly in remote communities. He also highlighted the immense value the insurance industry brings to Alberta's thriving economy.
Notably, our very own by Chris Huebner, President, and CEO of Lloyd Sadd, took the stage to speak to the program, the path to its creation, and the industry's opportunities. Whether it's working in customer service, sales, administration, analytics, or other specialized roles, NorQuest's Insurance Professional program will create a foundation to prepare individuals for these varied and fulfilling career paths.
Lloyd Sadd's contributions extended beyond words. As one of the founding partners of the program, they made a generous commitment pledged over a three-year period. In a bold and heartwarming move that took the audience by surprise, Chris Huebner reached into his jacket pocket and produced a check for the full balance. Then, with unwavering confidence in the program's potential, he issued a challenge to his peers in the industry.
"We believe in this program, and are so confident in it, today I have brought a cheque for the full balance of our commitment. We're paying in advance, and I challenge the other contributors to do the same."
The launch event was a resounding success, providing a sneak peek into the transformative potential of the new program in Alberta's insurance industry. This innovative initiative not only empowers students but also paves the way for a more diverse and skilled workforce in the world of insurance. As the first classes approach, anticipation is mounting for the profoundly positive impact this program will have on both students and the industry. We're looking at a brand-new chapter in Alberta's insurance scene, with Lloyd Sadd taking the lead. The big question now is, who's up for Chris Huebner's challenge?