Lloyd Sadd adds significant commercial bench strength in 2020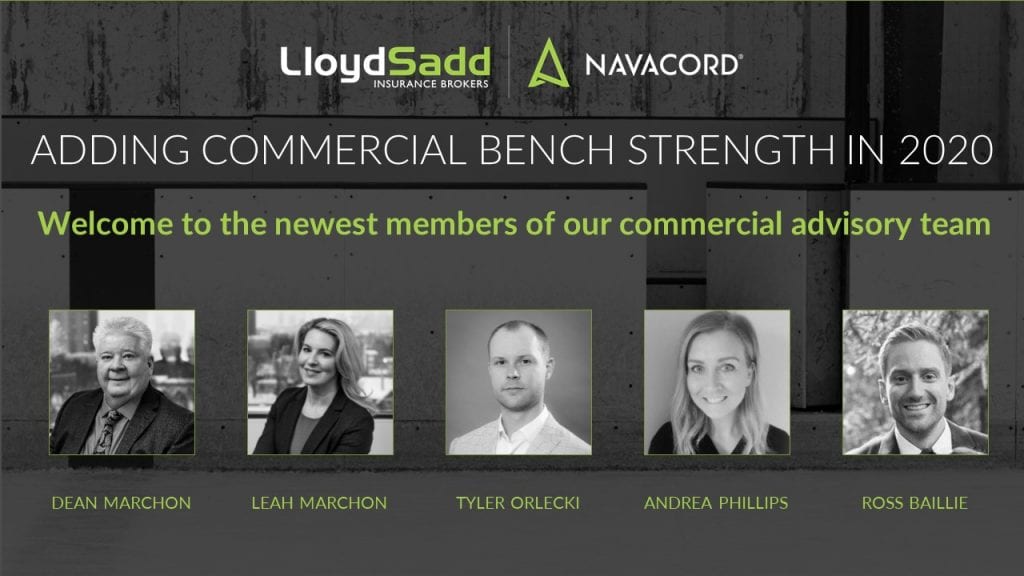 EDMONTON, September 14, 2020 – Lloyd Sadd Insurance Brokers Ltd., a Navacord Broker Partner, is pleased to announce the expansion of their commercial client advisory team with the addition of five professional Senior Advisors.
While 2020 saw many Canadian brokerages halt or slow their recruitment strategies, Lloyd Sadd continues to add new expertise to their broad roster, welcoming Dean Marchon, Leah Marchon, Tyler Orlecki, Ross Baillie, and Andrea Phillips to the team.
"Lloyd Sadd has a unique, client-first approach and a passion for developing and retaining relationships that you don't often experience at other brokerages," says Dean Marchon, Senior Advisor, at Lloyd Sadd. "Instead of competition, it's a culture of collaboration that extends through the team and to the client that helps us add impressive value and depth. It is really a pleasure to work with the entire Lloyd Sadd and extended Navacord team."
With a focus on attracting, developing, and retaining top talent to better serve their clients, Lloyd Sadd provides expert advice and custom risk management solutions to a variety of industry sectors including, but not limited to, Construction, Manufacturing, Energy, Transportation and Hospitality.
"This announcement signifies our continued growth and investment in our people." says Chris Huebner, President & CEO, Lloyd Sadd. "Collectively, this group brings over seventy-two years' of experience in commercial insurance to the team, and we are excited to add great talent and deeper expertise that our clients can leverage for their local, national and international risk management needs."
These additions bring the Lloyd Sadd commercial client advisory team in Alberta to thirty-four and builds upon the organization's successful, focused sector approach that enables greater client insight and more positive risk outcomes.
We Listen. We Think. We Deliver.